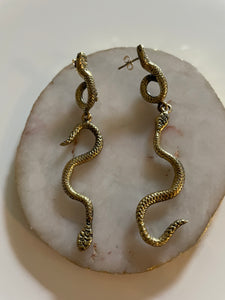 Aretes Serpiente Colgante
AF DESIGN
Regular price $120.00 Sale
Aretes Serpiente Colgante
Material: Gancho de plata 925, cuerpo de tumbaga y bronce bañada en oro de 24K.
Diseñado por AF Design, fabricado en México por manos artesanas locales.
Long Serpent Earrings

Material: Hook made in silver 925, tear made in bronze, gold plated in 24k.
Designed by AF Design, handmade in Mexico by local artisans. 
It is one of the favorite animals for its symbolism, regeneration. For ancient China it was a symbol of constant renovation. For primitive African people it was considered as a deity. Among the ancient Egyptians it could be protective as well as maleficent at the same time. According to Mesoamerican symbols, is the God of the fertility on earth.